Education


Education chart
General Special Advanced course
O

ur goal is not only to send our students to prestigious universities
but also to nurture their abilities to take bold steps toward the future thereafter.
1. "Education" = Improve Academic Skills for University Entrance Exams & Proficiency in the English Language
Our students acquire academic skills that will enable them to pass entrance exams for national/public universities located within the prefecture and competitive private universities at the first attempt. In order to achieve this feat, we have seven classes on Mondays, Wednesdays, and Fridays, and three classes on Saturday mornings. Furthermore, during the summer vacation, we hold classes in the morning from Monday to Thursday for four weeks. On Fridays, we plan on implementing special programs to improve proficiency in the English language and visit universities, research institutions, and companies. There will be classes in the mornings for six days during the winter break, and the school is open for a regular class schedule for willing students during the spring break.
In addition, we offer morning study groups as well as many trial and certification examinations, not to mention seminars to increase students' motivation to study. We place importance on daily efforts put in by students and holding educational programs to help them achieve their goals.
Furthermore, in our Advanced Course, we aim towards improving English proficiency. We focus on English skills required for entrance examinations as well as speaking and listening skills. First-year students can expect to improve their communication skills in our once-a-week English conversation classes. During the summer break, we hold intensive English conversation seminars and three-day English camps. Second-year students take part in a fifteen-day overseas school trip to Cebu Island to study English. Our goal is to have students pass EIKEN (English-proficiency test) Grade Pre-2 by the end of their first-year.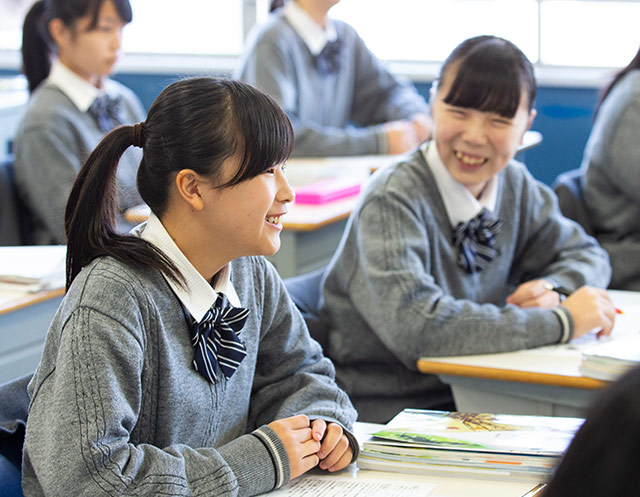 2. "Search" = Find Dreams & Explore Academics
During our integrated study classes, we implement the Quest Education Program. The Quest Education Program is a program that fosters "zest for living" by addressing real-world scenarios.
We have our students feel, think, and express themselves while addressing real-life issues faced by actual corporations and frontrunners. Students learn to study independently and develop a rich imagination whilst deepening their understanding of society, economics, and the meaning of work through team activities. A Self-Discovery Course is held for first-year students and a Company Exploration Course for second-year students. Additionally, we offer programs focused on career options after graduating from university. We take students to various research institutions, corporations, and universities, and show them what they can learn at university and what qualities are being sought after in the current society.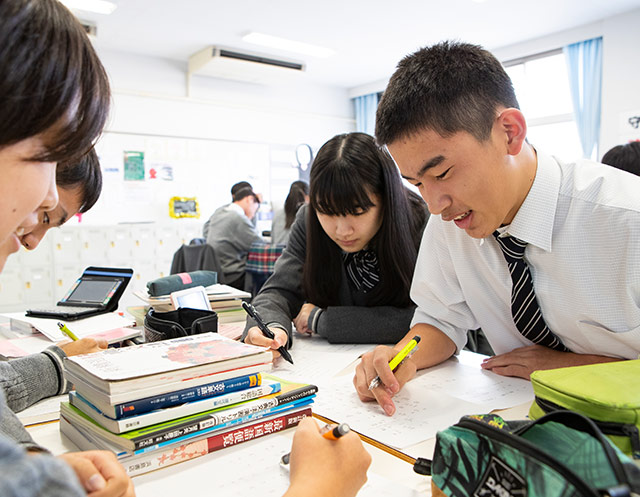 3. "Play" = Play Locally Using English
We provide various programs to improve English proficiency to ready our students for their second-year overseas school trip (for language study) to Cebu Island in July.
There are opportunities to improve English skills required for university entrance exams and as a communication tool, and to enjoy practical English. By utilizing the uniqueness of the locality, we are planning to have opportunities to interact with the people working at the Yokosuka Base. We are also conducting PR activities at Sarushima (an uninhabited island) to spread the charms of our town, Yokosuka. Please conduct Internet Search with keywords "Comolog Sarushima."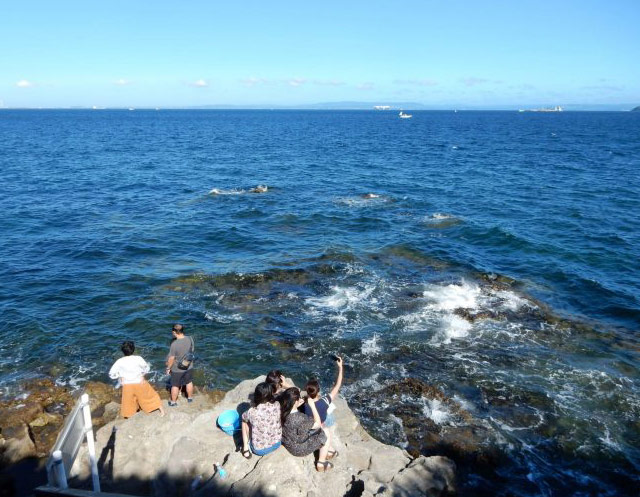 Lunch time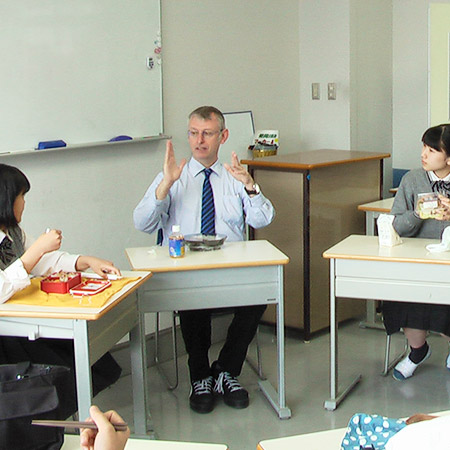 English Camp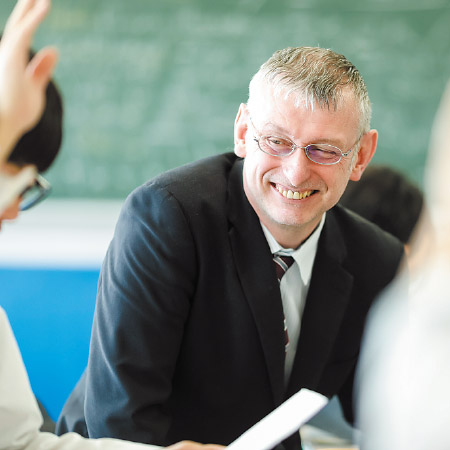 General Advanced course
A

ctive participation in extracurricular activities and seminars.
We encourage our students to excel both academically and athletically and enroll into mid-tier universities at their first attempt.
Aim to pass entrance exams to mid-tier to topnotch universities on the first attempt
A course that aims to have students enroll into middle to high-ranking universities at the first attempt. This course offers education geared toward the National Center Test for University Admissions and/or general entrance examinations for private universities from the start. We lead students to their goals by having first-year students focus on strengthening their basic academic skills, second-year students acquire applied skills by dividing them into liberal arts/science courses, and third-year students repeat exercises tailored to universities they wish to enroll into. There are study support programs that suit the needs of every student, such as advanced seminars held after school, seminars held during lengthy breaks, and morning study programs.
Many of our students aim to not only study for universities but also participate actively in extracurricular activities, as they achieve their goals, excelling both academically and athletically. Another unique feature of this course is provision of extensive programs, including one that aims to have all students pass EIKEN English proficiency test and Kanji Kentei Chinese character test. There are also a number of career-oriented education programs that foster abilities to make accomplishments out in the real world. Through our attentive supervision, we nurture students' practical and applicable skills, stretch the capacity of each and every student without fail, and encourage students to aim for a higher goal.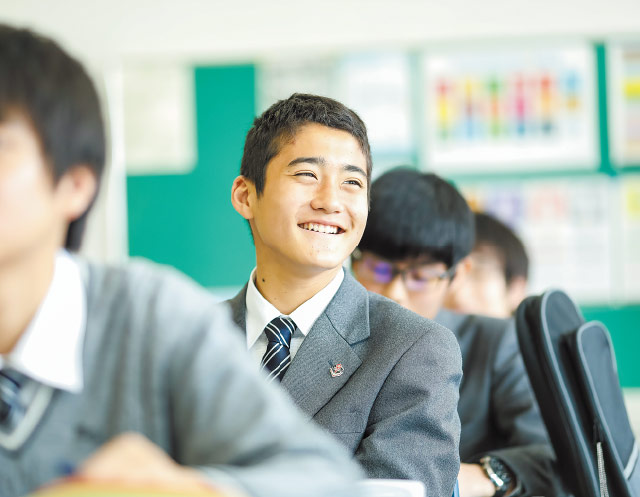 General course
W

e maximize the individuality and potential of every student, and have them pursue the respective goals they set for themselves.
The theme is "Exploration of Various Fields"
The theme is "Exploration of Various Fields". The main feature of the Integrated Course is maximization of individuality and potential of each and every individual. As such, we offer various elective classes to help students pursue their respective goals. They can strengthen their basic academic skills in the required classes and acquire advanced academic skills in elective classes.
We also foster abilities required to survive in the real world after graduating university, such as communication skills, self-management skills, and adaptability, while placing importance on career options and studies. We make sure each and every student is improving his/her potential, and give an extra push to achieve higher dreams.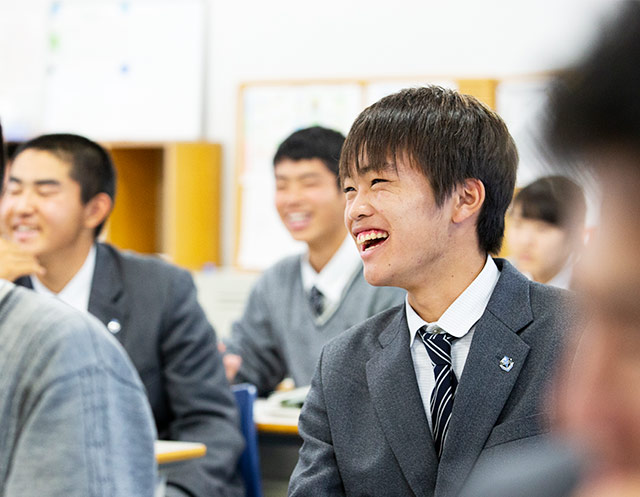 Industrial technology Mechanics course
A

course that offers diverse possibilities, aimed to instill engineering abilities and send students to technical universities.
We improve basic academic skills and help students obtain qualifications
A course that offers diverse possibilities, aimed to instill engineering abilities and send students to technical universities. Within air conditioned technical workshops with the latest equipment, specialized knowledge and practical skills of general machinery are taught through basic engineering work (machine processing) as well as machine operations, experiments, and practical training. Learning in small groups (of 8 to 10 persons) enhances students' understanding and makes classes efficient.
In order to meet students' various educational/vocational goals, this course also improves their basic academic skills and helps them obtain various qualifications.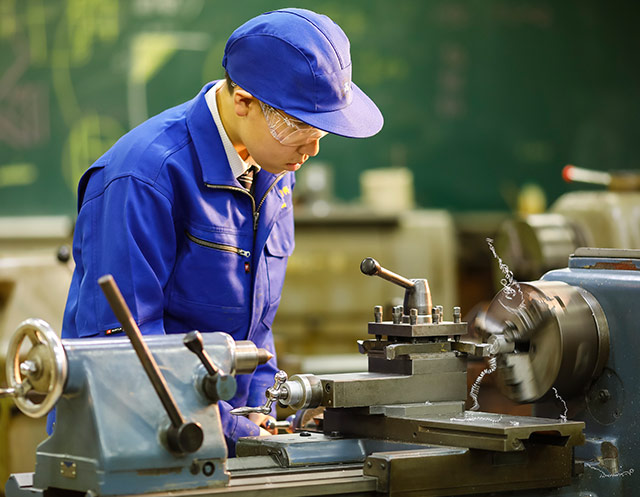 Industrial technology Electric course
S

tudents acquire broad understanding of electric technology through practical hands-on craftsmanship.
Become an Electrical Specialist
Students learn a broad range of basic and applicable skills required to become a electrical specialist, from the generation of electric energy to application technologies. Plenty of time is especially spent on the basics to make sure students understand and acquire skills steadily.
We are authorized to certify the qualification of Third-Class Chief Electrical Engineer (practical experience is required after graduation), and aim to acquire an authorization to certify qualification of Second-Class Electrical Engineer (written exam will be exempted after graduation). Furthermore we provide support for students wishing to enroll into universities.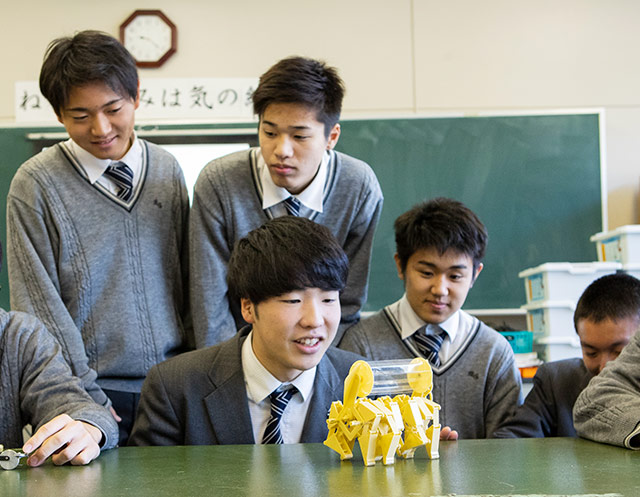 Industrial technology ICT course
S

tudents learn information technology that supports industries using the latest computer facilities.
We foster information technology engineers who can succeed in a variety of industries
Information technology has now become an essential part of not only the industrial world, but also modern society. We aim to nurture information technology engineers that can succeed in a variety of industries. The key feature of this curriculum is that students can learn about computer systems through the study of electrical and electronic engineering, and acquire extensive knowledge of both hardware and software.
In addition, application skills can be nurtured through practical training of robotic control, programming, CAD, multimedia production, etc.